Men's Section
A very active Men's section offers a range of competitions for all categories of membership, ranging from the Monthly Medal and Stablefords, mid-week competitions, and of course, competitions for the Honours Board trophies.
Thinking of joining a Golf Club? Worried about integrating and finding Playing Partners? Never a problem at Evesham Golf Club, 'Throw Ups' occur most days of the week when new and old members mix for an enjoyable round of golf followed by a little friendly chat and banter in the clubhouse.


Do not let the fact that it is a 9 Hole Course influence your thinking, there are 18 Tees so the back nine is totally different from the front 9. It is also the 4th longest course in Worcestershire and has been established well over 100 years so is a good test of golf.


Due to the fact that we limit Membership to approximately 350 we do not have to operate a Tee Booking System as it is always possible to turn up and play. Millionaires Golf at Affordable Prices!
Club Champion gets his reward!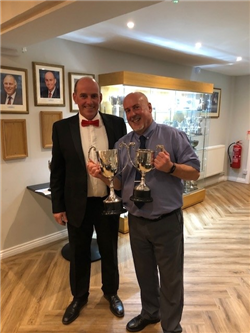 Pictured is Andy Barber receiving the prestigious Club Championship trophy from the Club Captain, Brian Marshall, at the recent Men's Presentation dinner. Andy also managed to bag the Frank Swann trophy as well (best nett score). A fantastic achievement given Andy only joined the Club in April!
The Men's Presentation dinner was a great success with the 40 plus in attendance enjoying a fabulous meal laid on by Guest catering and entertainment from comedian Paul Boardman.
HOSPITAL BOWL 2020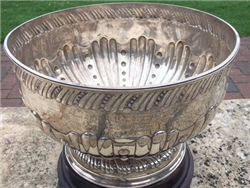 The field of 79 players were blessed with good weather for one of most
prestigious competitions of the Evesham golfing calendar. Many players are
enjoying their return to golf as we used to know it; no more than Neil
Betteridge, who with a net score of 67 took first prize along with the biggest
trophy in the club cabinet. Although he may have to wait a while to get his
hands on it! Neil's recent good form has resulted in a playing handicap
reduction of two shots, now playing off 7 - congratulations are in order.
In second place two shots back was Mike Callaghan, with Peter Stanley one further
in arrears but still managing to go under the CSS of 71 on the day.


13 players took advantage of the quality of the greens by scoring two's on the
par 3's. For details of prizes for the competition go to ClubV1 / Club Docs /
Gents (and please no quips about the 'Gents').


To increase availability of tee times we had fourball play in the morning and
three ball in the afternoon which seemed to work well. The personalised score
cards were a welcome surprise and hopefully were appreciated by the players.


I am pleased to report that the booking and self-recording score mechanisms are
working very well with only one player not managing to record his score before
the 10:00 p.m. deadline.
DENNIS HEATH CUP 15/7/2020
The field of 50 players exceeded all expectations, more than doubling the number of entrants from last year. Eight golfers managed to score level par or better, with Chris Jewkes scoring a nett 66 to take the Trophy. The next two players recording nett 68's were Granthan Speake just edging out Boz Harris on countback. The par 3's proved to be quite a challenge with only four players breaking par on the 6th, 9th and 16th – Stuart Berry, Nick Webb, Michael Weaver and Granthan Speake.

Six players were rewarded for breaking the CSS par 72 with an adjustment to playing handicaps of one stroke each. This made Mr Askew very happy. On the flip side, temporarily wiping the smile off the handicap secretary's face, 3 players were gifted an increase in playing handicap of one stroke each. You win some you lose some!
Baker Cup incorporating the July Medal
Saturday 4th July 2020
Another warm dry day on the Craycombe Links next to the Avon saw 77 players challenge for the Baker Cup and July Medal.

Seven golfers managed to go below par for the course and with the winning nett score of 65, Jim Jones took the honours on the day. The Baker Cup is the reward for a fine round; together with a handicap reduction from 13 to 11. Another fine performance from Adrian Robinson taking second spot with 67, just ahead of Pete Stanley on 69.

The par 3's produced a barrage of birdies with 15 players improving on the par score. But once again Jim Jones manged to outdo the field by finding the bottom of the cup with his second shot on the par 4, 15th hole.

For the first time in over three months the golfers were able to celebrate and commiserate each other with refreshments being served on the terrace; keeping a social distance of course.

To ensure we adhere to distancing guidelines the club and members are utilising the latest technology to book tee times and record their scores via the internet, eliminating the risks associated with handling cards.

Competitions are coming thick and fast with the Dennis Heath Cup on 15th July, followed by the Hospital Bowl 3 days later.

Rotary Cup & March Medal
Saturday 07th March saw the first Cup competition of the year being held at Evesham Golf Club, namely the Rotary Cup which this year was run alongside the March Medal.

Played in very reasonable conditions given the recent run of poor weather on a slightly revised course to avoid the flooded river Avon, off yellow tees resulting in a reduced par of 68; the opportunity to shoot low was there and that's exactly what Neil Betteridge did with a nett 64. Neil had nine pars and two birdies on the way to his winning score which also proved to be the lowest gross on the day and some six shots less than standard scratch and his handicap was reduced from 10 to 9 as a result. Second in division one was the recently appointed Club Captain Brian Marshall with an excellent 67, just ahead of Lewis Ridley with 68 in third. The second division was a slightly tighter affair with Derek Boocock the overall winner with a nett 71 followed by a three way tie on 73 which was resolved on countback giving young Jake Nightingale second place and Alan Dufty third.

A fantastic days golf and huge congratulations to all the winners and particularly to our new Rotary Cup holder Neil who wins his first major cup competition since joining the club 18 months ago.

Finally, please spare a thought for the unfortunate Andy Jones who wasn't feeling well on the day and so didn't enter the competition as he was unsure whether he could complete all 18 holes or not. He managed it and shot a nett 64 in the process and would have beaten Neil on countback!
EVESHAM GOLF CLUB 2020 - CAPTAIN'S DRIVE-IN
Despite the best efforts of storm JORGE to disrupt proceedings, members of Evesham Golf Club enjoyed an afternoon of brilliant sunshine to mark the occasion of Brian Marshall becoming their new Club Captain

In a long standing tradition at Evesham, members locate themselves on the first fairway before the Captain has three drives and whoever is standing closest to where the ball comes to rest, picks it up and presents it back to the Captain in exchange for a bottle of wine.

The members duly gathered in various parts of the fairway plus a few in the rough and trees, although nobody was rude enough to stand on the adjacent second and ninth fairways! With a steady hand and nerves of steal, Brian sent his first drive over 230 yards straight down the middle of the first fairway, almost into the hands of the Vice Captain John Jones; some say it was 'fixed'. The second and third drives weren't quite as accurate, but some of the more speculative members were waiting in the trees lining the fairway to claim their prizes.

The chosen competition format for the day was Betterball Stableford where members play in pairs and record their best score on each hole.

The sun shone, the wind gusted all afternoon and the players were rewarded with some spectacular views of the River Avon in full flow, but this did not detract them from hitting some very good scores.

The formidable pairing of Lewis and Stuart Ridley took first place with 42 points beating the Club Secretary Fraser Williamson and Pete Stanley into second place on 38 points. On count back, third place was taken by Steve Wood and Nick Webb on the same number of points. There was even a prize for finishing with the least number of points. Congratulations, commiserations and some well aimed banter followed the announcement of results by the captain.

A great day was had by all and it looks like a fantastic golfing year ahead for Evesham Golf Club under Brian's stewardship.
MENS SECTION AUGUST 2019
COMPS SUMMARY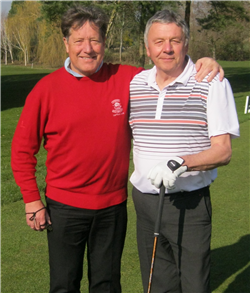 5th WEEKDAY STABLEFORD
Tiswas Tyrrell moaned his way back into form and amassed a notable 40 points to overcome Darren Grove 38 and Alan Askew 34 points. Good to see ex-Skip and it means you'll stay then?
12th SUNDAY STABLEFORD
Dan "The Man" Ritchings can do no wrong at present and won with 39 points from Neil Arthurs 37 and alternative Mob member Steve Markham a little adrift with 34 points. Neil is steadily showing improvement and surely his time will come.
13th WEEKDAY MEDAL
One of our favourite country members from Pyle & Kenfig, Stevie Locke, showed his true potential by shooting 80-13 = 67 and pipped newish member Nigel Taylor, who scored an even-par 72 – 4 = 68 and the resurgent Monty 79-11= 68. Not often you knock it round level and not win, Nige. And for any member wanting to see a smooth golf swing of a now senior golfer, take the time to watch our Nigel.
28th MID WEEK 9 HOLE QUALIFIER
The Lenches breeds good short course players and Steve Wood duly obliged by scoring a handicap-reducing 21 points from mate Steve Protherough (17) and Jeremy Saunders a distant 3rd with 11. Not worth the entrance fee really J !
31st PETER CALLAGHAN TROPHY
It seems strange to call him Anthony, but Rocky won this trophy for a well-respected former member with an excellent 40 points from Gav Griffiths on 39 and Geoff Wellens with 38 points. Pete always liked the stableford format and his sons, Mike & Paul, donated the cup in accordance.

2019 CLUB CHAMPIONSHIP
OLLIE AND NICK TAKE THE PLAUDITS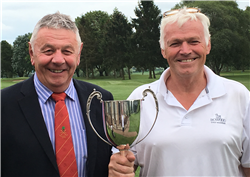 On an excellently presented course, the 2019 Evesham Golf Club Championship produced some good scoring in calm conditions.
The gross prize is awarded to the best two rounds over the weekend with the best nett winner receiving the Frank Swann Trophy. Oliver Farrell, returning from 4 years on a scholarship in the U.S. and fresh from his win in the prestigious Berkshire Trophy was trying to extend his record of nine championships and the remainder of the 58 strong field were vying for the nett award.
Saturday's round resulted in Oliver Farrell scoring 72-(-3)=75 followed by Steve Protherough 75-5=70 and four other players on 79. The nett competition was led by John Stanley 82-14=68, Mike Abraham 86-16=70 and Keith Gater 83-13=70. For Sunday's final round the field was reduced to 36 players and Ollie showed his true class by scoring 67-(-3)=70 and last year's nett champion Ashley Curnock returning an excellent 78-11=67, with Nick Webb in third place on 77-8=69. Another good week-end at EGC.

Final results: Club Champion Oliver Farrell 72 + 67 = 139
Frank Swan Trophy Nick Webb 71 + 69 = 140

APRIL COMP SUMMARY
April 8th WEEKDAY STABLEFORD
Hywel Jones back on form won with 35 points from Monty Haughey on 34 and the consistent Tony Fawcett with 31.
April 13th DUCS CUP & APRIL MEDAL
The first major qualifier of the season with the top eight players going through to the knockout stage of this prestigious trophy.
Club Treasurer Chris Jewkes has been slowly reducing his handicap and was rewarded with a fine 83 -12 =71.
The other qualifiers were:
Mike Callaghan 72, Jeremy Saunders 72, Richard Curnock 72, Mark New 72, Ashley Curnock 72,Pete Stanley 73 and Lewis Ridley 73.
April 17th 9 HOLE QUALIFIER
Neil Arthurs took first place with Mark Harrison and Jim Jones also both on 18 points.
April 27th ROGER KNIGHT TROPHY
With the course in ever-improving condition there were no excuses out there, so Big Paul Callaghan winning with 80-9=71 followed by newish member Neil Betteridge with 83-10=73 and Dave Tarry third with 74 was acceptable. But the division 2 results were much higher as Mike Abraham took first place with a 94-16=78 and a 0.1 handicap increase.
CAPTAIN'S DRIVE-IN 23RD FEBRUARY 2019
PURPLE PETE STARTS HIS YEAR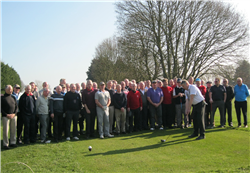 On a glorious Spring-like day, the annual competition marking the inauguration of the new captain drew an entry of 72 members and a resplendent Pete Moore, duly despatched 3 excellent drives down the first fairway for retrieval by the competitors. In contrast to previous years, there was no unsightly scrambling, but a rather more genteel approach which resulted in Lady Captain Lesley Curnock, Martin Bird and Andy Budnick emerging victorious. Despite the efforts of club professional Rob Steele, hopes of having a photograph of the Captain and Linford the Rhea were dashed when Linford discovered a more attractive food source on the practise ground.
The results of the modified greensome format were:
1st Gerry Ricketts and Neil Betteridge 44 points
2nd Mike and Paul Callaghan 44 points
3rd Stu Ridley and Pete Wragg 44 points
An excellent start to the golfing year.

WEAVER WINS RNLI
MICKEY WEAVES HIS WEB!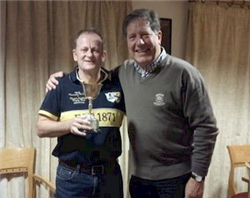 The final competition of the year, combining the Roger Smith and RNLI trophies, attracted an excellent 72 entries and after a heavy dew start for the early tee slots, a classic Autumn day evolved. The scoring also reflected the recovery of the course from the extreme summer temperatures and the consistent Mickey Weaver having won the Canada Cups with Andy Cottrill, scored 41 points to win from Robin Miles by a single point and thereby earned a long overdue two shot handicap reduction. Hywel Jones, sporting his new spectacles, recovered some of his investment with a steady 38 points to take third place from new member Ian Axcell on count-back. Ian has quickly settled into the vagaries of the Fladbury layout and with his third qualifying round within the last month, looks likely to figure in the early 2019 competitions, no doubt aided by son-in-law Rob, our esteemed professional.
A fine end to our calendar in a remarkable golfing year.
SEPTEMBER EVENTS
SUMMARY OF COMPETITIONS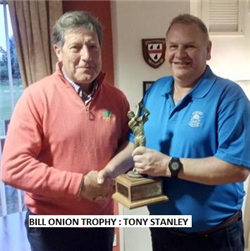 1st September Pete Callaghan Trophy CSS 71
A day for high scoring in excellent conditions was the prelude for this popular competition and it was fitting that the two Callaghan boys were on hand to make the presentation in the absence of The Skipper. John Vaughan continued his fine form with a winning score of 43 points, closely followed by Paul Sharpe who is clearly well fit in readiness for his upcoming marathon event, with 42 points. Tony Stanley again featured with 40 points in third place.

8th September September Medal CSS 71
The Stanleys were at it again, with John (69) and Derek (71) not wanting to be upstaged by Brother Tony in recent comps and Jeremy Saunders split them by quietly playing below handicap (70) for second place. Another day of very close scoring around the SS.

16th September Sunday Stableford CSS 70
19 entrants is about the norm and Keith Gater continued his steady return to form with 39 points, just pipping Granthan Speake on the back nine and Jim Jones one behind with 38.

22nd September Bill Onion Trophy CSS 72
54 entrants on a challenging day with the CSS increasing by 1. Some of the recent prominent culprits were in view again; Tony Stanley with an excellent net 67 followed by Jeremy Saunders (70) and the classy Stu Ridley reducing his handicap to 7 with 71.

24th September Weekday Medal CSS 72
Only 5 entries and Chris Jewkes led the field with a fine net 70.

FATHER & SON COMPETITION
MARTINS RETAIN THE CUPS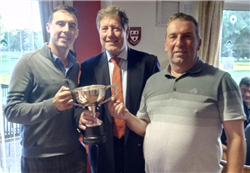 Perhaps it is a reflection of the changing pattern of golf particpants that a relatively low number of pairings entered the annual Father & Son event, but that did not detract from the high quality of pairings. Ian and Terry Martin from Kings Norton and Rosehill respectively, scored an excellent 41 points to continue their dominance, having won in 2017 and the margin of 4 points from Nick and Henry Webb perhaps does not auger well for other competitors in future years, although we must remember that Ian is the pro at Kings Norton! Richard and Ashley Curnock also scored 37 points, but losing out on countback. The total entry was 18 pairs and next year consideration could be given to opening the entry definition to grandfathers as a means of increasing numbers, although that may not sit too well with our more stolid members, but they are probably past the stage of wishing to enter - we shall see. All in all, another enjoyable open event with excellent playing conditions, good grub and a very sociable atmosphere.

BILL ONION TROPHY
TONY STANLEY KEEPS HIS FORM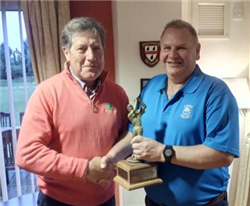 Saturday saw the last singles cup competition for the year and which is in rememberance of a real character from a long list of Evesham stalwarts. Although weather predictions were not favourable, the day remained reasonably dry and the scoring reflected a return to excellent playing conditions. With a strong field of 54 entrants,Tony Stanley continued his recent strong form by winning with a nett 67 from Jeremy Saunders (70) and Stu Ridley (71).
AUGUST UPDATE
SUMMARY OF SECTION EVENTS
1st August Weekday medal CSS 71
25 entrants on a now-normal scorching day saw country member Steve Locke score an excellent 83 -16 = 67 to take first place, followed by the evergreen Diddy Carsberg rolling back the years with a net 69 on countback from Keith Penn. Steve is a member at Pyle and Kenfig and plays at Evesham whilst working in our area, but his striking ability is far better than his 16 handicap would imply. You're on the radar,Stevie!

4th August Centenary Open CSS 71 Visitors CSS 73
As reported in more detail, our South African Stu finally showed his true ability and scored an outstanding net 62, resulting in a handicap reduction of three shots to 13. The Kevski, who was initially erroneously reported as Kevin Phillips, (the report compiler is a footballing fan), came in with a 66, which would normally have walked it. Visitor Rhys Wallace must like the course as he shot a gross 73 -5 = 68 to take third place. A good turnout and mix of home and visiting players.

12th August Sunday Stableford CSS 71
Only 5 players were not on holiday, but Howard Browne followed up his July success by scoring an impressive 40 points to reduce his handicap to 10.5. John Stanley, another Sunday comp regular was second with 35 points.

25TH August Raymond Gray Invitation
Full report in the Mens section with Steve Wood and Mickey Weaver winning with 45 points from the Insalls on 44. A good turnout of 36 pairs who enjoyed both the course and the food.

29th August 9 hole qualifier SS 71
8 players for the mid-week experiment with Peter Clarke beating Neil Arthurs on countback on 17 points. Good to see Ken Hardacre back playing at Evesham again and taking third place with 14 points.

30th August Captain's Putter CSS 71
A select field of 11 stalwarts saw Brummie Insall pip Stu Ridley on countback with an excellent 38 points and Master Baker Pete Lawrance on 35 points in third place. An enjoyable afternoon was followed by a most enjoyable dinner with port chasers as per the custom.

JULY SUMMARY
ROUND-UP OF EVENTS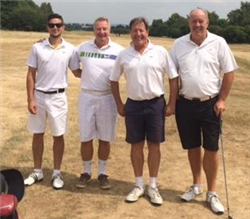 FIDDLERS' AWAY DAY

Doug Wright chose Rye Hill, near Banbury and over 20 intrepid Fiddlers turned up for singles and team competitions plus nourishment at the end. The in-form Geoff Wellens pipped Mike Krieze on 37 points with Alan Cross third on 33. Big-hitting Stu Berry took the longest drive and surprisingly accurate Tony Smith was nearest the pin, whilst Smooth Smurph managed nearest the pin in two. Food was good and another successful day on the road for the Evesham Mob.

GOLF CLUB BOWL
The bogey format is regarded by some as the purest form of golf and this prestigious trophy was won by Jim Jones with an excellent 7. Nick Webb maintained his consistent run of form with 4 in second place, matched by Pete Wragg in third.

DENNIS HEATH TROPHY
It is probably worth delving into the club archives to discover the origins of this award since no-one appears to know when Dennis Heath was a member, but clearly he had the interests of the more senior golfers at heart as the event is only open to players aged over 50 years. With his handicap now settling at a comfortable level, Graham Hughes scored a net 70 to beat Alan Hyde (71) and Alan Askew (71) into the minor places.

CAPTAIN'S DAY
With the continuing hot weather, it was totally appropriate for the Skipper to provide a refreshing glass of Pimms at the 13th tee and early evening activities were well-attended by members, families and friends. The team results were not that important other than to record a longest drive by Eunice Allen on the 6th, which in current conditions is almost impossible to keep on the fairway!

SUNDAY STABLEFORD
The stalwarts were out in force with Howard Browne (43 pts), John Stanley (41) and Monty Haughey (41) taking the money.

9 HOLE COMPETITION
These evening events fit nicely into the playing availablity of many members and some familiar faces participated with Pete Wragg (18 pts), Nick Webb (17) and Tony Stanley (17) at the forefront.
COMPETITION SUMMARY
JUNE 2018
With relatively few official competitions on the calendar, the continued fine weather has enabled members to complete their knockout matches on schedule.

1.BAKER CUP
Will James shot a stunning net 65 to easily win this major board trophy with Dan Richings (70) and Hywel jones (72) filling the minor places. Will continues a fine run of form and has deservedly reduced his handicap to 8.8.
2.MEN'S INVITATION
It could have been predicted, Will James and Bobby Webb from Broadway scored an excellent 44 points to win this Open event by one point from Russ Leeming and Paul Evans (Broadway) and Paul Callaghan/Terry Bridger (Whipsnade). Some 33 teams entered and with our new Pro Robert issuing a creative challenge on the 9th hole, visitors and members had an enjoyable day. Special mention to the green staff and house catering for providing such a positive impression of the club.
3.SUNDAY STABLEFORD
The mercurial Phil Wheeler won with 38 points from Monty (37) and Gav (36). All three play regularly on Sunday mornings and it showed! Reasonable form for the upcoming Club championship perhaps.
4. 9 HOLE QUALIFIER
These comps enable members who cannot get time off to play a full round in the week to score qualifying scores for handicap purposes and has been reasonably well supported. Pete Stanley took the June honours with 20 points, followed by Neil Arthurs (17) and Tony Philpott (16). A refreshing change to the golfing week.
MENS INVITATION AT EVESHAM GOLF CLUB JUNE 2018
WILL JAMES AND BOBBY WEBB FROM BROADWAY WIN MENS INVITATION
30 members and their guests contested the annual competition played in breezy, but dry conditions at the Fladbury links. With the course in excellent condition, scoring opportunities were plentiful and the final results reflected the experience of visitors who had prior experience of the course. Some 14 clubs were represented and as the format of 2 ball, better ball stableford is quite forgiving, winning scores were always going to be in excess of 40 points. The day was completed with a single-course meal, spot prizes, a well supported raffle and a 2s sweep. One particularly attractive item was the Pro's challenge on the 9th, where Rob wagered that he could achieve nearest the flag with his tee shot or pay double the wager in vouchers from the Pro shop. Naturally many participated, but they were certainly not expecting Rob to play his shot from his knees! Good fun!
The results were:
1st Will James and Bobby Webb ( Broadway) 44 points
2nd Russ Leeming and Paul Evans (Broadway) 43 points
3rd Paul Callaghan and Terry Bridger 43 points
Longest drive 12th Bobby Webb
Nearest the pin 6th Dave Teague
Nearest the pin 16th G Tweeney
Despite morning distractions of the Women's Cycling Tour and its associated entourage, a major accident blocked the main road for over an hour, resulting in some racing-round in the kitchen and dining room, but eventually calm and the schedule was restored. Shades of swans on the river: serene on the surface, but paddling furiously below.

COMPETITION SUMMARY
MAY 2018
1. MAY MID-WEEK MEDAL 9TH MAY
14 members played in difficult conditions which resulted in the CSS increasing to 74, almost in the Reduction Only category. Winning on the day was Mike Abraham 90 – 15 = 75, second was Gav Griffiths 83 – 8 = 75 and third Nick Webb 84 – 8 = 76'
The general consensus was that it had been a tough day on the links.
2. HOSPITAL BOWL 12TH MAY
One of the major trophy competitions drew a strong field of 60 entries and with the weather and course showing distinct improvement, the scoring was also much better than of late.
The winner with a fine gross 76 – 7 69 was Anthony Rock, followed by a welcome return to form by Paul Sharpe 84 – 14 -= 70 and James Attwood 81 – 10 = 71. CSS was 72
3. SUNDAY STABLEFORD 13TH MAY
Only 10 entries and generally average scoring resulted in the CSS remaining unchanged at 71. Monty Haughtey shot 37 points from Steve Markham, who is showing great strides in his golf development with 36 points and the trusty Doug Wright scoring 35 points.
4. MAY & WUGU QUALIFIER 26TH MAY CSS 73
An average turnout of 46 men in difficult playing conditions for the right to form a 2 man team for the Worcestershire Union Winter Matchplay knockout salvers. The trophies are in recognition of the 100th anniversary of the R&A and were formally designated as the St. Andrews Salvers.
Division 1 players dominated, with Gav Griffiths 79 – 9 = 70, Richard Curnock 76 – 6 = 70 securing selection for the team event and Rob Wylie 79 – 8 = 71 taking third place. Division 2 scores were poor, the best being Andrew Dauncey 95 – 19 = 76.



Insall and Sharpe shoot 61 to lift trophy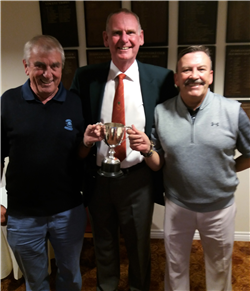 Evesham golf club former two time Club Captain Geoff Insall and his playing partner Paul Sharpe lifted the Forrest Hays Cups on Saturday at Evesham Golf club shooting an exceptional 61.

Played as a pairs medal competition off 90% handicap allowance, the Forrest Hays trophies is a main board competition first contested in the late 1970's. Despite the tricky autumnal conditions scoring was remarkably good with 15 pairs bettering the par of 72. In 2nd place 1 shot behind the winners were the disappointed pair of Andy Cottrill and Nick Webb with an excellent 62. 3rd place was occupied by Stuart Green and Jerry Cain 63 with John Machin and Graham Hughes in 4th spot on count back with 65.

Father & Son Open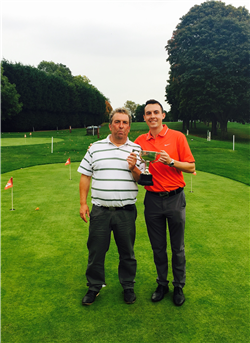 On Sunday the Men's section hosted the annual Father and Son event which attracted teams from all over the county. This ever popular event provides Father and Son competitors with the opportunity to play as a pair for the honour of the family. 23 pairs battled for the trophy from 19 different golf clubs.

In 1st place with an excellent 39 points was the pair of Terry and Ian Martin from Rose Hill G.C. and Kings Norton Golf Club. In 2nd and edged out on count back was Alan and Kevin Corfield also from Rose Hill G.C.. In 3rd was Mark and Connor Thomas on 38 both from Kings Norton G.C. In 4th pipping fellow Evesham members John and David Machin was Richard and Ashley Curnock with 37 points.

Father and Son Terry and Ian Martin Winners of the Father and Son are pictured.
Bill Onion Trophy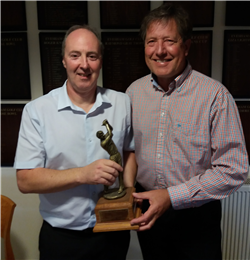 On Saturday members from the Men's Section gathered to compete for the final individual board trophy of the year the Bill Onion Trophy. Played as a medal competition competitors were keen to take advantage of the early autumn sunshine as conditions were perfect for low scoring. Scoring did not disappoint as 1st time board competition winner John Stanley shot a superb net 65 of his handicap of 18. As well as securing the trophy his efforts earned him a 2 shot reduction in his handicap to 16. In 2nd place was Senior's Club Champion Mike Abraham continuing his excellent run of form with a 68. In 3rd was Nick Webb on 69 relegating Stuart Berry on countback to 4th. 5th was Tony Stanley capping an excellent season on 70 and 6th was Phil Batchelor on 71.


Picture: On Left winner of Bill Onion Trophy John Stanley and presenting trophy Vice Captain Ian Tyrrell
Johnson Lifts Open Trophy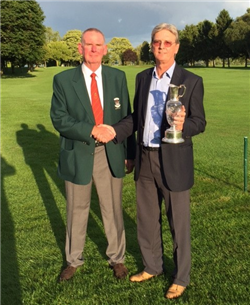 42 visitors from 13 different clubs including as far afield as Murrayfield in Scotland joined Evesham Golf Club members to compete for Evesham's very own claret jug awarded to the Open Champion.

Despite challenging conditions which included rain, hail and thunder and lightening the superb organisation by Dan Clee Evesham Golf Club Professional ensured that all 97 players completed their rounds. The winner of the trophy with a battling 69 was Steven Johnson from Handsworth Golf Club. His score was the more exceptional as a triple bogey on the 2nd was followed by a superb 16 holes.His net 69 was matched by Evesham Golf Club Secretary Fraser Williamson in 2nd, Will James in 3rd and Paul Callaghan in 4th all on count back.5th place went to Rod Spears from Kings Norton with a 70 and 6th Benni Piovesana also on 70.

The prize for Best Gross was awarded to Stuart Bennett from Enville Golf club with a 72, 2nd was Steve Watton also from Enville with 74 and 3rd Michael Cutter Broadway Golf club with a 78. Nearest the pin on the 9th was won by Neil Priestley from West Midlands Golf Club, longest drive went to Gary Guest Little Lakes and finally holing his 2nd on the 15th secured nearest the pin in 2 for Darren Nightingale from Evesham Golf club

Picture Evesham Golf Club Captain Brian Osborne presenting the claret jug to Steven Johnson
Osborne Celebrates Captain's Day at Evesham Golf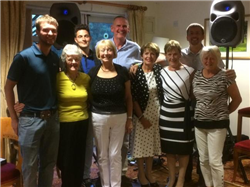 Evesham Golf Club Captain Brian Osborne held his Captain's day at Craycombe links on Saturday 29th of July. Celebrating his second year as Club Captain Brian Osborne hosted over 100 golfers who competed in a team competition. The day was completed by a evening of fun and entertainment when golfers and guests joined the Captain and his wife Penny to enjoy an evening of music and food raising £1012 for local Evesham charity the Acquired Brain Injury Trust.

Despite the worrying weather forecast the men and women teams enjoyed a sunny if breezy day playing in teams of 4. With the best 2 scores to count and all 4 on par 3's the 3/4 handicap restriction proved challenging.The Men's competition was won by the team of A.Rock, R. Wylie, M.Haughtey, and W.James with an excellent score of 99 stapleford points pipped on count back the team of J.Machin, T.Fawcett, G.Hughes and B.Marshall. The Women's competition was won by the quartet of J.Hunt, A.Bird, D.Machin and J.Bevan with an excellent 81. Despite the inclement evening weather guests danced long into the night celebrating a hugely successful year for the ever popular Captain.
Golf Club Bowl
Gater lifts Golf club Bowl
Evesham Golf Club Member Keith Gater was the winner of the magnificent Evesham Golf Club Bowl at a sunny Craycombe links on Saturday.

Played as a bogey competition players battled to finish under par with a plus score. 5 players bettered the level par score with Gater securing a fine victory with a score of plus 5. 2nd place was occupied by Russ Leeming on plus 4, the ever consistent Brian Marshall was 3rd on plus 3 with Andrew Witts in 4th on plus 1 just relegating Steve Young into 5th also on plus 1.


8th Club Championship for record breaker Farrell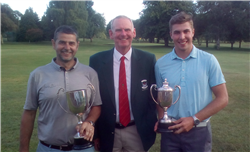 Current Worcestershire Golf Champion Oliver Farrell secured his place in the history of Evesham Golf Club by winning his 8th Club Championship over the weekend. The young amateur star annihilated the field winning by a margin of 20 shots with an impressive total of 133, 9 under par.

Played over two days, 58 golfers lined up on Saturday for 18 holes of medal golf to earn the honour of qualifying for day 2 when the prizes would be decided. With the top 12 gross scores, and 24 net and ties qualifying for the final round, the pressure was on to make the cut. Farrell led after the 1st round with a flawless 65 including 6 birdies and no bogeys. In 2nd place was the ever consistent Richard Curnock with a magnificent gross 73 net 66 to also lead the chase for the Frank Swann Trophy awarded to the golfer with the best nett score over 2 days. Curnock was closely followed in the net competition by James Attwood and Tony Smith who both shot net 67.

Sunday saw conditions perfect for golf and the scoring reflected this with some excellent scores. However Farrell was not to be denied and secured the trophy for an 8th time with a 2nd round 68 and a championship record to make history. In 2nd place overall was former champion Steve Wood on 153, ahead of Anthony Rock on 157 and Michael Callaghan in 4th on 161.

The Frank Swann Trophy for the best net was won by Darren Nightingale with score of 137. In 2nd was Richard Curnock on 139 closely followed by Kevin Stewart whose 69 on day 2 gave him a total of 144. 4th place was occupied by Michael Haughtey on 145.

Farrell's place in history supplants the previous record of 7 set by Evesham legend Stuart Ridley and all involved are confident Farrell will see this as another step to his ambition to be a top professional.

Picture: Captain Brian Osborne presenting the Club Championship To O.J.Farrell (right) and the Frank Swann to Darren Nightingale
Longest Day Golf Challenge 2017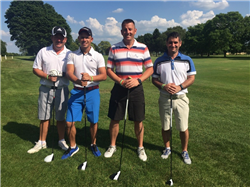 Four Evesham Golf Club members braved the sweltering conditions last Sunday when they completed the 'Longest Day Golf Challenge 2017' in aid of Macmillan Cancer Support. They completed the 72 hole marathon between 5am and 9pm, covering approximately 40 Kms. With two best stableford scores counting, they accrued an excellent total of 347 points, raising £860 for the charity.

Pictured are the brave foursome of Gavin Griffiths, Denny Smith, Anthony Rock and Stuart Deacon.

Heaton and Teague Secure Victory in Invitation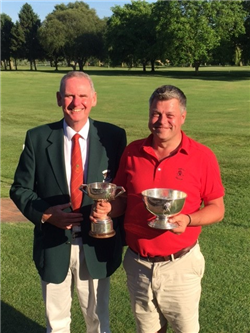 Guests from 18 different golf clubs joined members at Evesham Golf Club for the Men's Invitation on Saturday 17th June. 28 pairs played for the honour of being invitation winners in a better ball format. Players enjoyed unbroken sunshine on a beautiful Summers day and the calm conditions were reflected in the scoring.

Winners of the trophies were Evesham Member Paul Heaton and his guest from Little Lakes Golf Club Dave Teague with a magnificent 65 pipping Club Secretary Fraser Williamson and his guest Steve Johnson from Handsworth to 2nd and in 3rd Michael Haughtey and guest Andy Barber from Cleeve Cloud all of whom also had 65"s. Best Gross of 74 was scored by Michael Callaghan and guest Luke Perry from Gaudet Luce.

Nearest the pin members was Anthony Rock and guests Gary Guest Little Lakes, and longest drive members was also Anthony Rock and the guests was Chris Martin from Sherdens


Photo shows Paul Heaton collecting trophies from Club Captain, Brian Osborne
Weaver Triumphs in Baker Cup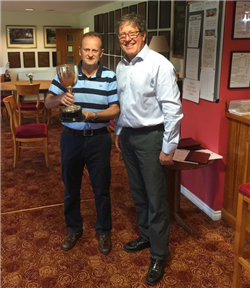 Michael Weaver shot a magnificent 64 on Saturday at Evesham Golf club to lift the Baker Cup and Division 2 of the June Medal.

One of the most prestigious main board trophies the Cup was first contested in 1912. With his score adjusted to 67 to reflect the trophy maximum handicap of 18 Weaver pipped Division 1 winner and Mr. consistent, Richard Curnock, who scored a 68 whilst also securing the best gross score on the day. Runner up in Division 2 was Stuart Deacon with Chris Jewkes occupying 3rd. Division 1 honours were completed by Anthony Rock in 2nd place and Andrew Jones in 3rd.

Picture shows vice Captain Ian Tyrrell presenting the trophy to Michael Weaver
Success in County Championships!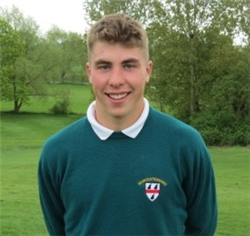 Evesham Golf Club member Oliver Farrell has won the Worcestershire County Championship for the second year running. He also won the Youth Championship at the same time.

Click here to read more


May Medal
The Men's Section of Evesham Golf Club gathered at Craycombe Links on Saturday to contest the May Medal. Played in two divisions the recent hot and humid weather was replaced with strong winds and occasional sunshine for this spring competition. With tee times and groups drawn this provided members with the opportunity to play with different members.

Division 2 was won by Paul Sharpe with a welcome return to form shooting 71. In 2nd place was Phil Wheeler 72 and 3rd was occupied by Laurie Keen with a 73. All 3 players were rewarded for their performances by means of a reduction in their handicaps!

Division 1 honours went to Andrew Witts who relegated Richard Curnock to 2nd place on count back both shooting 74. 3rd place was occupied by Stuart Ridley with a 76.
Le Duc D'Orleans Cup
Bright spring sunshine greeted Evesham Golf club's Mens section on Saturday 24th for a Medal competition that also doubled as a qualifier for the Le Duc D'Orleans Cup. Played in two divisions scoring reflected the challenging conditions with a strong wind making scoring difficult. Division Two was won by John Vaughan with a magnificent 68 who was rewarded with a well deserved 2 shot reduction in his handicap to 15. Runner up was Peter Clarke 70 and Neil Arthurs with 74.

Divison 1 was won with an equally excellent 68 by Gavin Griffiths who also was cut by 2 shots to 7. In 2nd place was Paul Callaghan 73 pipping his brother Mike who shot a 75. The top eight in the field qualify for the knock stages for the Le Duc D'Orleans Cup a main board competition and the qualifiers will battle for the cup in a match play format with the final to be played over 36 holes in July.

February Stableford
Evesham Men's section competed in the February stapleford competition on Saturday the 18th. Played on a shortened course the competition was a qualifier and saw some excellent scoring by the field reflected in the standard scratch score for the day being 70 some two shots less that the par for the course.

Contested in two divisions, division 2 was won by Mike Abraham with 42 points pipping Tony Stanley on count back, 3rd was Chris Jewkes with 41 and 4th John Jones with 39.

Division 1 was won by seven time club champion Stuart Ridley with 42 points who to the delight of his playing partners was rewarded with a 2 shot handicap reduction to 6. 2nd was Darren Nightingale with 40, 3rd Tony Smith 39 and 4th John Machin 36.

Monte Carlo Team Competition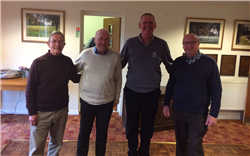 The Riviera came to Evesham Golf club on Saturday when the Men's section played a Monte Carlo Team Competition. Played in teams of 3, the stableford format features all 3 players' scores multiplied on each hole to give a team score. With any nil scores having a severe impact on the scores for each hole friendships were tested to the limit!

With a par score being 144 points over half the field matched or bettered it on a freezing cold winter's day.

In 3rd place with a score of 212 was the trio of Will James, Gavin Griffiths, and Russ Leeming. 2nd was the team of Steve Wood, Tony Stanley and Pete Stanley with 226. However the winners with a magnificent 228 were the experienced team of Geoff Wellens, Dave Portman and Ivor Powell. The happy winners are pictured!

3 Club Competition
The Men's section of Evesham Golf Club marked the end of the golfing year with a Pre- Christmas 3 club competition.

Played as a staple ford competition 56 golfers competed with 2 clubs of their choice and a putter. Scoring was excellent in what is a challenging format with 3 golfers all with 35 points taking the spoils in positions 4th to 6th.

In 3rd place was Jeremy Saunders with 36 points and 2nd Boz Harris with 38. First prize was presented to the winner Phil Day also on 38 points by the Club Captain Brian Osborne who capped his final presentation of what has been a memorable captaincy by thanking all of the members for their sterling support during his captaincy.

Hole in One!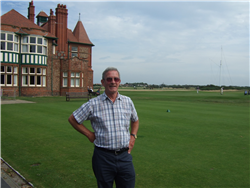 Congratulations go to Dave Portman who managed the feat of a hole in one at Evesham on 7th November 2016.

This special event came on the 16th hole whilst playing with the Niblicks.

Those lucky enough to be about enjoyed a glass of whisky courtesy of Dave!
Success for Evesham in the Kidderminster Cup
Evesham Golf Club have won the 1st round match of the WUGC Kidderminster Cup event.

The event is a winter knock out with teams of 6 (over 55's) playing scratch foursomes. Evesham were drawn at home against Hagley Golf and Country Club. Under the leadership of Barrie Saggers Evesham took full advantage of home conditions and won their match 3-0. It is worthy of note that this is only the second time in 9 years that Evesham have have recorded a win and, coincidentally, only our second home tie in 9 years!!

Clearly a home draw in the next round will be much appreciated!
Roger Smith and RNLI Charity Stableford
Evesham Men's section contested the final board competition of the 2016 season at Craycombe Links on Saturday 22nd of October.

The Roger Smith and RNLI Trophy was donated by the current Chairman of the club Roger Smith a number of years ago. It is played as a singles stapleford competition with a portion of the entry fees donated to the RNLI.

In 5th place was Roger Holmes on 38 , 4th Derek Jackson also 38, 3rd Steve Wood who was pipped on count back for 2nd place by Steve Young with both scoring 40 points. However the winner of the trophy pipping both with 41 points was Geoff Wellens.
Stewart and Wragg edge to victory in Raymond Gray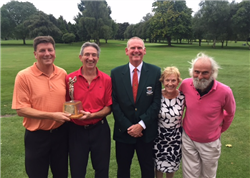 Kevin Stewart and his partner Peter Wragg edged to a thrilling victory in the prestigious Raymond Gray trophy at Evesham Golf Club on Saturday 3rd of September. The competition played as a better ball pairs stableford competition is open to all category of members at the club and is also open to visitors.

Raymond Gray was the former professional at Evesham Golf Club with an astonishing career that spanned over 62 years from when he joined in 1929 to his death in 1991. Many believe this to be a UK record for longevity and it is with pride that members and guests contested a close competition with 4 pairs scoring an impressive 45 points.

Prize winners included Marlene Billings and Eunice Allen with 43 points and best score for lady/lady team. George Beattie and guest Deane Morris clinched the prize for best lady/man score of 44, whilst John and Chris Ainsworth secured the prize for best man/man team score.

In 3rd place overall was Stuart Berry and Keith Gater, close runners up were Steve Young and his partner Jean Bevan. However the winners of the trophy on count back with 45 points and aided by an outrageous 5 point eagle on the back nine by Peter Wragg, were the pair of Wragg and Stewart.
Pete Callaghan Trophy
The Men's section of Evesham Golf Club gathered at a rainy Craycombe links on Saturday the 27th of August to contest the newest main board competition the Pete Callaghan Trophy . Played as a 18 hole stableford competition of full handicap, the competition was inaugurated in 2012 in commemoration of the passing of Pete Callaghan a valued and loved member of the club and presented by his two sons Paul and Mike both members of the club.

Two very differing sets of conditions faced the field with morning starters enjoying a dry round, whilst the afternoon starters encountered rain, thunder and lightening which resulted in a temporary suspension of play due to the adverse conditions. Thankfully conditions did improve allowing the competition to be completed.

In 7th place with 37pts was Paul Callaghan, pipped on count back by Anthony Rock for 6th. Popular Steve Young occupied 5th on 38, with William Sellar and Brian Marshall occupying 4th and 3rd on 39. Runner up was Robin Miles on 41 but the winner of the silver cup was Nick Webb with an excellent 42 who was rewarded with a handicap reduction from 11 to 10.

Centenary Open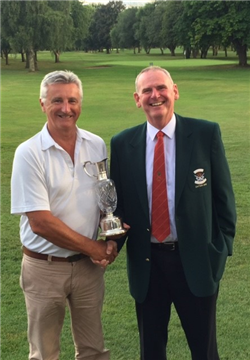 Evesham Golf Club hosted their Men's Centenary Open on Saturday 30th July. A full field of 90 players enjoyed fine weather and an excellently presented golf course. Visitors from 11 different clubs (including 21 members from Broadway!) traveled from around the Midlands to the Fladbury course.

The big winner on the day was Past Captain, Phil Wheeler (pictured with Club Captain Brian Osborne) who rolled back the years with a tremendous nett 66 to take the Centenary Trophy. Wheeler just pipped another Past Captain, Tony Fawcett, in to second with an excellent nett 67. Other winners were - 3rd Nett Paul Callaghan 68, 4th Nett Stu Green 69, 5th Nett Dave Teague (Burlish Park) 69 and 6th Nett Chris Jewkes 70. Best Gross winner was Andrew Witts with a 76, 2nd Gross Mike Callaghan 77 and 3rd Gross Colin Paxton (Sherdons) 78.

A raffle was also held and raised £250 towards the Captain's Charity - Rory the Robot Appeal (Prostate Cancer).

Farrell secures 7th Club Championship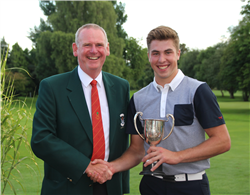 Evesham Golf Club member Oliver Farrell secured a remarkable 7th Club Championship in a row with a composed performance over the weekend of the 2nd and 3rd of July.

Played over 2 days with the qualifying round held on Saturday the top 12 gross scores and the best 24 net scores qualified for the 2nd round on the Sunday.

Conditions on Saturday were challenging with a strong westerly wind adding to the difficulty. The combination of lush rough and slick greens saw the field struggle. Richard Curnock set the mark in the morning with an excellent gross 75 net 66. However a gross 73 saw favourite Farrell take a 2 shot lead into day 2 from Curnock, with Mike Callaghan a further shot behind after an excellent 76 net 68. In 3rd place was Steven Protherough with a 77 whilst plaudits also went to the ever popular Pete Moore who scored an excellent net 72 to sit in 4th place in the battle for the Frank Swan Cup awarded for the best Net performance over the 2 days.

Conditions on Sunday were much kinder with strong sunshine greeting the early starters. 41 golfers qualified for day 2 with the leading trio of Farrell, Curnock and Callaghan teeing it up at 2.14.

Scoring was much improved on the Saturday with many of the field matching their own par or better. However following an excellent flawless 68 England international golfer Oliver Farrell secured his 7th title with a combined score of 141. Whilst following another impressive round on Sunday of 78 net 70 Mike Callaghan capped a fine weekend to take the prestigious Frank Swan Cup on a score of net 138. With players limited to 1 prize honours were spread around
Best Net Day 1 Peter Moore with a 72, gross day 1 Malcolm Boscott 84. Round 2 best net Will James 71 gross day 2 Paul Callaghan 80
4th place in the Frank Swan Cup went to Dan Richings with a combined total of 147, 3rd Anthony Rock 146, 2nd and runner up Richard Curnock 144.
4th place in the Club Championship went to Andrew Witts with a combined 166, 3rd Steve Wood 162 and runner up Steven Protherough with 153.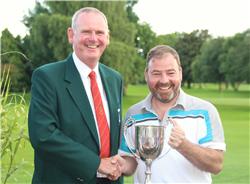 Mike Callaghan receiving the Frank Swan Cup from Club Captain Brian Osborne
Captain's Away Day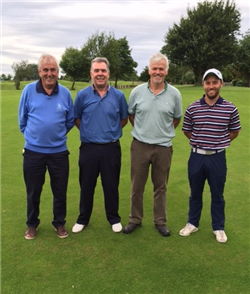 Evesham Golf Club held its annual men's Captain away day last Thursday (30/6/16).

Thirty six members visited The Wychwood Golf Club near Chipping Norton. The four ball format, (two best scores and all to count on par 3s) was played in fine but testing conditions.

Club captain Brian Osborne presented the prizes to the eventual winners, Geoff Insall, Bobby Deacon, Jim Jones and Nick Webb who scored an outstanding 106 points. Second with 94 were John Richards, Boz Harris, Graham Hughes and Steve Wood. Prizes for nearest the pin and longest drive were presented to Geoff Insall and John Richards respectively.

£235 was raised during the day for the Captain's Charity, the 'Rory the Robot' appeal - to raise funds towards the purchase of the latest technology in the treatment of prostate cancer, on behalf of the Worcs Acute Hospitals NHS Trust.

Picture shows winners (L-R) Geoff Insall, Jim Jones, Nick Webb and Bobby Deacon.
Men's Invitation Day
34 pairs played - guests from 24 different clubs.

Results -

Winners - Hywel Jones & Chris Martin (Sherdons) nett 64 (28 on back 9)

Runners-Up - Fraser Williamson & Terry Clewes (Handsworth) nett 64 (35 on back 9)

3rd Place - Paul Heaton & Dave Teague (Burlish Park) nett 65

Best Gross - Nick Webb & Graham Tweeney (Broadway) 74

Nearest the Pin - Member - Mike Callaghan

Nearest the Pin - Guest - Andrew Cartwright (Droitwich)

Longest Drive - Member - Phil Day

Longest Drive - Guest - Frank Meadows (Broadway)

Picture shows Invitation Day winners Hywel Jones and guest Chris Martin from Sherdons GC.

Nightingale lifts the Baker Cup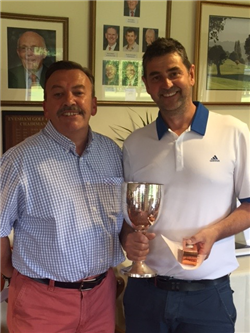 A warm and muggy morning greeted the field at Evesham Golf Club on Saturday 11th of June. Over 60 golfers gathered to contest the June Medal and main board competition for the prestigious Baker Cup.

Played in 2 divisions golfers faced a firm and fast course after the recent warm weather with the excellent greens reflecting the hard work of Head Greenkeeper James and his team. With occasional showers during the day any ball in the rough was in danger of being lost and the challenging conditions were reflected in the scores.

Fourth place in Division 2 went to Stuart Berry with a 72 who was pipped on count back for 3rd place by club Secretary Frazer Williamson. Second place was secured by left hander Mark Harrison with 70 and the winner with an excellent 68 was the ever popular Pete Stanley.

Divison 1 saw 4th secured by local farmer Richard Curnock with a 72. Third was Nick Webb with 71 and 2nd and long time club house leader was Steve Wood with an excellent 70.

However the worthy winner of Division 1 and the Baker Cup a main board competition was in form Darren Nightingale with a best of the day gross 75 and net 66.

Picture: Competition Secretary Paul Sharpe presents Darren Nightingale with his trophy.
Hole in One!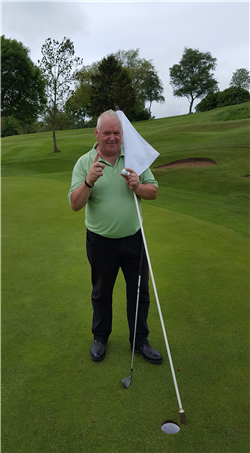 Congratulations to one of our new members, Mark New, who has started his Evesham Golf Club career with a bang!

Mark scored a hole in one on the tricky 6th hole. Despite it not being in a formal competition Mark still honored the occasion by putting a bottle of whisky on the bar for members to celebrate a fabulous achievement. Apparently it was a proper golf shot as well!!
Hospital Bowl Competition
Stewart Clinches Prestigious Trophy
Kevin "Kevski" Stewart proved to be the hugely popular winner of the prestigious Hospital Bowl at Evesham Golf Club on Saturday 14th of May. Dating back to 1924 the magnificent trophy is played for in medal format with handicaps capped at a maximum of 18.

Over 70 golfers teed up in the morning and afternoon in 3 balls in spring sunshine. The course was presented in excellent condition by the green keeper James and his team. The spring growth made conditions challenging with the rough proving too tough for many. However those who were able to keep the ball in the fairway prospered with 3 golfers tying on 73 to just miss out on the top 4. In 4th place was Hywel Jones with a 72 separated by count back from Mike Callaghan in 3rd place and who also collected a deserved prize for the second competition running for the best Gross score. In 2nd place also with an excellent 72 was new member Mark New. However the winner and recipient of the magnificent silver Hospital Bowl was Kevin Stewart with a 71 who capped his day with a handicap reduction to 12.

Congratulations should also go to Chair of House Mark Harrison who had a hole in one at the tricky 6th hole.

Daryl's Benefit Day
68 players turned out, including many of the WCCC squad, to play at Evesham Golf Club to support Daryl Mitchell's Benefit year, raising money for his chosen charities.

The weather was kind and the course was in great shape, and winners on the day were the team of Norman Robertson, Percy Price, Robin Edwards and WCCC player Matt Henry with a fantastic total of 86 points. In second place were the home team of Kev Stewart, Tony Smith, Anthony Rock and WCCC player Ross Whiteley with 83 points. Third place went to Pete Lawrance, Will Lawrence, Cecil Duckworth and the host, Daryl Mitchell with 82 points.

A fine meal and a few drinks were enjoyed by all following play along with the prize presentation from Club Captain, Brian Osborne.

The day raised in excess of £1700 for Daryl's charities.


Roger Knight Trophy
Club Captain success!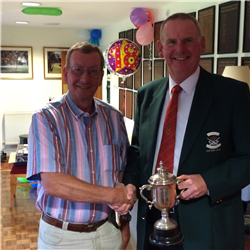 The final day in April saw the Men's Section of Evesham Golf Club contest an April Medal and Roger Knight Trophy a main board competition. In addition the competitors were seeking to represent the club with Professional Dan Clee in a PGA competition to be played in June at Burnham and Berrow Golf Club.

The morning golfers arrived at a frosty Craycombe Links with the course playing its full length of the White Tees. The difficult conditions were reflected in the scoring with only 1 of the morning golfers breaking par. The afternoon starters thankfully were spared the forecast heavy rain with only showers affecting the conditions.

Division 2 saw Dave Portman secure 4th place with a net 74, with Andrew Budnik and David Higgins finishing with 72's the latter edging 2nd spot on count back. Division 1 was equally a tight contest with Stuart Ridley securing 4th place with a 72, in 3rd was Mike Callaghan with best gross score of 79 net 71. A close runner up with 70 was Paul Sharpe with Lewis Ridley the long time club house leader filling top spot with 68. However the Roger Knight Trophy, PGA Qualifier place and Division 2 honours went to the club Captain Brian Osborne who capped an excellent golfing week with his win and an excellent score of 67. This was the second win in a week for the Captain and this has been reflected in his new handicap of 13.

Caption Competition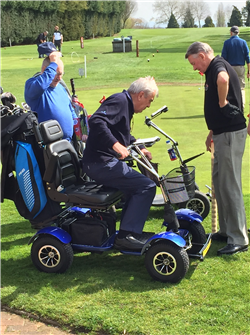 Club Captain, Brian Osborne, took this picture last week. He thinks it offers potential for some funny captions!

Please feel free to submit your captions - the best ones will appear on the website in the near future.
March Medal
Evesham Golf Club Men's Section held their March Medal on Easter Saturday. Played in two divisions the top 8 from both divisions also qualified to compete for the Duc's Cup later in the season. Marking the start of the golfing season 65 players battled the wild and windy conditions, gail force winds and driving rain. With the morning players having the best of the weather it was no surprise that many of the good scores came from these groups.

Division Two saw former Evesham Rugby Club legend Simon Badger mark his return to competitive golf with a fine 73 and 3rd place, Stuart Deacon secured 2nd with 73 on count back and the winner with an excellent 72 was Mike Izod. 3rd place in Division One went to Nick Webb on 75, 2nd was Andrew Witts with the best gross score of 78 and a nett 70. The winner on the day and continuing a fine run of form was Brian Marshall with a 69.

With a maximum handicap limit of 18 for qualification for the Duc's knock out stages the 8 qualifiers who will contest the match play stages are Brian Marshall, Andrew Witts, Nick Webb, Russ Leeming, Stuart Deacon, Ken Hunt, Ian Tyrell and John Jones

Winter League Final
Ridley and Nightingale triumph in thriller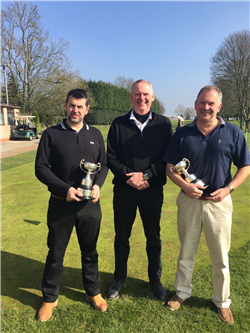 Sunday 13th of March saw the conclusion of Evesham Golf Clubs Men's Winter League. Played as a pairs better ball competition participants battled throughout the winter months through a league and then knockout format.

The final pairings of Ridley and Nightingale and Wood and debutant Cottrill faced each other in the final last Sunday over 18 holes of match play golf.

The two stand out teams in the competition didn't disappoint with a titantic struggle finally settled in favour of the 2015/2016 Winter League Champions Ridley and Nightingale on the 6th extra hole and their 24th with a birdie.

At the other end of the scale the Wooden Spoon was contested by the two worst pairings in the competition . Former champions Wheeler and Insall completed their fall from grace losing to the Richards and Sellars pairing to claim the Wooden Spoon.
February Stableford
Despite the previous weeks torrential rain Evesham Golf Club's Men's section played an 18 hole individual stableford competition on Saturday 13th of February.

Played on the Blue course with the river hole under water the conditions proved challenging with only 2 golfers bettering the par stableford score of 36 points. Division 2 saw Geoff Wellens in 3rd place with 35 points, and pipped on count back for 2nd place by Laurie Keen. The winner with 37 points was the ever popular Jerry Cain.

Division 1 was equally tight with Lewis Ridley and Dave Phillips both scoring 34 points, the latter securing 2nd place on count back. However the winner with a magnificent 40 points in the conditions was Brain Marshall who was rewarded with a new handicap of 11. The next major event is scheduled for Saturday the 27th of February when new Captain Brian Osborne will have his Captain's drive in and team competition.

Texas Scramble Team Event
Stuart & Lewis Ridley and Dan Richings clean up!
Back to back Eagles in Thursday Fiddle!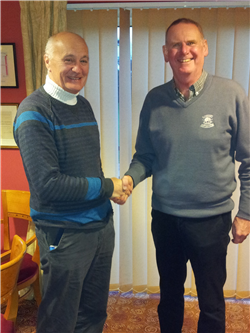 Congratulations must go to Keith Penn who managed the amazing (and possible unique feat?) of getting two eagles on the trot whilst playing in the Thursday fiddle on 28th January.

This fantastic achievement occurred on the par 4 15th and par 3 16th holes. On his scorecard Kieth gained 10 stableford points for these holes (effectively back to back net albatross' taking account of his handicap).

Keith celebrated by buying all those in the Clubhouse a drink in recognition of his hole in one on the 16th and then walked off with the best back nine prize (after countback!) in the fiddle.

The picture shows new Men's Captain, Brian Osborne, congratulating Keith on his accomplishment.
January Stableford
Wins for Tony Smith and Bobby Deacon!
Despite the recent nonstop rain the Men's Section at Evesham Golf Club were able to contest the January Stableford at Craycombe links on Saturday 23rd of January.Played on a mixture of temporary and normal greens and off the White tees the conditions made the course play its full 6000 plus yards.
In 3rd place in Division 2 was Dan Mallins with 37 stableford points. Second place was occupied by Peter Wragg with 39 points with two 2's on par 3's, and the winner with a magnificent 42 points in the conditions was Bobby Deacon.
Division 1 saw Gavin Griffiths secure 3rd place with 36 points, new B team Captain John Richards second with 38 points and the winner was Tony Smith with 39 points.
It only remained for the outgoing Captain John Machin to thank the Head Green keeper James and his staff for their sterling efforts in keeping the course playable despite the most challenging weather conditions.

Fiddler of the Year 2015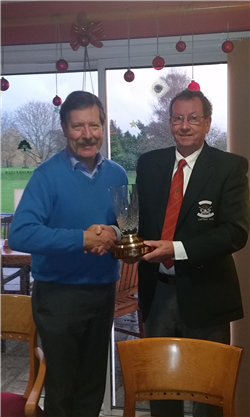 Congratulations to Ian Tyrrell who was crowned Fiddler of the Year for 2015.

Ian received his trophy from Club Captain, John Machin, before enjoying a hearty feast with his fellow Thursday fiddlers.
Men's Presentation Night - 20th November 2015
Friday night saw our annual Gentleman's Presentation Night, it was well supported with over fifty members attending.

The evening started with drinks and the magician doing his tricks around the room, followed by an excellent meal, provided by Lisa and her staff.
The presentation then took place with Mike Brumage, last years Seniors Captain, presenting the Seniors with their trophies during which he was ably assisted by this year's Seniors Captain, Martin Williams. I then presented the men's trophies assisted by my Vice Captain Brian Osborne.
There was a great atmosphere in the room, in no small part due to the Seniors Section joining us for the first time. I hope we have set a trend to be continued for many years to come.
The magician Steve Faulkner then took center stage and never ceased to amaze us with his wizardry, he had the whole audience spell bound.
I must conclude with thanks to the Competition Committee, Paul Sharpe, Peter Wragg and Kevin Stewart, who have done an excellent job throughout the year running the various competitions and getting the results on a Saturday so that we could have a presentation. Well done all of you! Special mention must do to Kevin who spent the whole day on Friday polishing the trophies and placing them in the right order on the table.
I would also like to thank Dan and Ryan in the shop for all of their help throughout the year. Thank you both.
Geoff Insall assures me that he did his best to make you all look handsome on the photo's, quite frankly Geoff you didn't do a very good job, but the pictures are superb. Thank you.
Overall I thought it was an excellent evening, and would like to thank all the members who attended.
Captain

John Machin.


ATTENDING THE FLAG: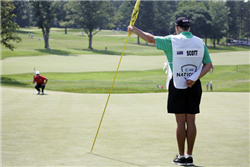 In order to reduce the risk of damaging the surfaces of the Putting Greens during the period when 'Winter Rules' are in play, the committee are recommending and encouraging the following when playing social/non competition golf/fiddles.

The Flagstick is to be left unattended when putting out; no penalty will be incurred if the Flagstick is struck by the ball. (b) The Flagstick may be removed from the Hole, if preferred, but it shall not be attended at any time.

Although the rules of golf do not allow the introduction of a local rule permitting golfers to putt from the green leaving the flagstick in the hole, your cooperation in trialling the above during the winter would be appreciated.

Nightingale Swoops to Victory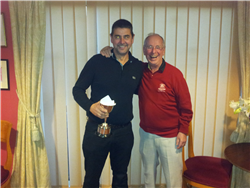 The golfing season drew to a close at Evesham G.C. on Saturday with the field contesting the last board competition of the year.

The Roger Smith and R.N.L.I . Trophy was won by Daren Nightingale with an excellent 40 stableford points. In 2nd place was Will Winterburn with 39 points, 3rd was Russ Leeming with 38 points and 4th was Anthony Rock with 37 points. Nightingale capped a fine season with a victory that also saw his playing handicap drop to an impressive 9.

Ridley and Nightingale triumph in Forrest Hay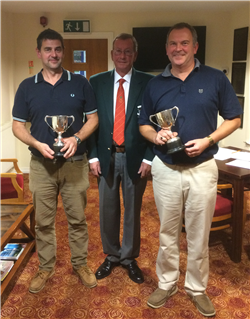 Stuart Ridley continued his fine run of form carrying off the Forrest Hays Challenge Cups with his partner and brother in law Darren Nightingale
The pair's competition is played as a better ball medal format of ¾ handicaps. The scoring on the day was excellent with over half the field posting sub par rounds.

In 4th place was the pairing of Brian Marshall and Andy Budnik with 65, edged out for 3rd on count back by Steve Wood and Steven Protherough also with 65. In 2nd the long time club house leaders were Paul Sharpe and Jim Jones with 64. However triumphant on the day was Stuart Ridley and his partner Darren Nightingale who lifted the trophies with a magnificent 63.

Picture
Club Captain John Machin presents the silver cups to Darren Nightingale and Stuart Ridl

Bill Onion Trophy and September Medal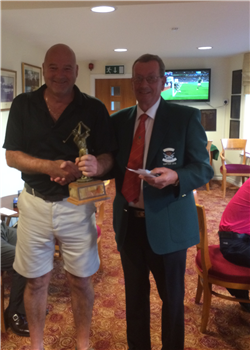 Paul "Big Easy" Callaghan secured his first board competition in the Bill Onion Trophy at Craycombe links on a beautiful autumn day on Saturday.

A field of 61 golfers competed for the trophy which was combined with the September medal.

Division 2 saw the Club Secretary Fraser Williamson finish 4th with a net 75, John Jones 3rd with 74 and Kevin Stewart a close 2ndwith 71 just behind Bill Kite who headed the division with a fine 69

In Division 2 Nick Webb was 4th with a 73 just pipped for 3rd place on count back by Steve Wood also with 73. Captain John Machin continued his excellent run of form with 72 and 2nd.
However Paul Callaghan took both the division 1 honours, and the Bill Onion Trophy with a magnificent best gross score on the day of 78 and a net total of 69.

Father & Son Open
Local pair win!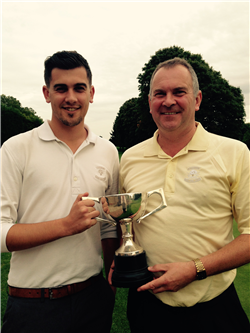 Evesham Golf Clubs annual Father and Son Open competition was played for over the weekend with over 88 players competing from 25 different golf clubs from around the country. This type of family competition is very rare throughout England, hence the multiple club entries creating a full Starting sheet.

An entertaining day's golf produced the following results:

3rd place Alan and Kevin Cornfield (Rose Hill) 41 points

2nd place Mark and Connor Thomas (Droitwich and Kings Norton) 42 points

1st place Lewis and Stuart Ridley (Evesham) 45 points.

Stuart Ridley has now completed a family hat trick winning it previously over the last 14 years with his dad Paul and other son Scott.

Captain's Putter
The Captain's Putter Competition is an annual event where past and present Captains compete for the Captain's Putter. The Putter and splendid display case was presented to the Club by Ken Vickerage (past EGC Secretary). The idea for the event was put forward by Peter Lawrence.
In a keenly fought competition the top three places were as follows:
3rd Place:
Mike Abraham
36pts
2nd Place:
Tony Fawcett
38pts
1st Place:
John Machin
38pts
The current Captains successful form continues coming out the winner on count back. However, as the trophy can only be won by a past Captain, Tony Fawcett takes the prize!
The competitors were joined by other past Captains for a splendid meal in the Clubhouse afterwards including a nice glass of Port (thanks to the Vice Captain!).
Raymond Gray Trophy Results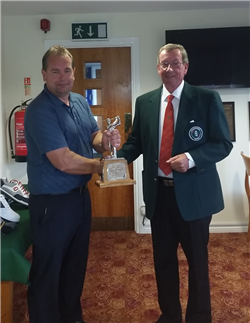 The results of the Raymond Gray Trophy held on Saturday 5th September 2015 were:
Best Member/Lady:
Annie & Martin Bird (39 pts)
Best Member/Member:
John Machin & Brian Osbourne (41 pts)
Best Member/Guest:
George Beattie & Diane Morris (38 pts)
Nearest the Pin:
T.R. Hemming
3rd Place:
Paul Callaghan & Jim Jones (41 pts)
2nd Place:
Paul Sharpe & Kevin Stewart (42 pts)
Winners:
Andy Budnick & Brian Marshall (44 pts)
Picture - Andy Budnick receives the Raymond Gray trophy from Club Captain John Machin
Pete Callaghan Trophy
Captain John Machin Triumphant!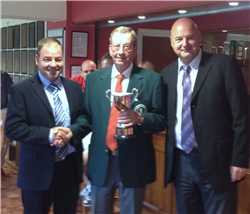 Club captain John Machin rolled back the years on Saturday in winning the Pete Callaghan Trophy in the late summer sunshine at Craycombe .

With the course in its usual great shape albeit the greens a little slower John carded an excellent 42 points off his 12 handicap in a round that included 11 pars and 2 birdies.

Runner up was Pershore's experienced Alan Dufty 2 points back with 40 points. Brian Marshall bagged 3rd place again on 40 points in a round that included an eagle on the par 5 8th hole. George Parker claimed 4th spot with 39 points.

Picture
Trophy presented to John Machin by Paul and Mike Callaghan

Captain's Day
The results for the Captain's day competition were as follows:

Nearest the pin on the 9th: Phil Wheeler

Longest drive men: Martin Williams

Longest drive ladies: Ruth MastersTwo's (8 balls each): Phil Wheeler, James Attwood, Lewis Ridley and Paul Callaghan.

Nearest the pin Ladies: Val Lemon

Ladies winning team: D Machin, Eunice Allen, Conryn Abbott and Val Lemon 75 points

Men third place: William Sellar, Stuart Deacon, Bobby Deacon and Jim Jones 79 points

Men second place: Geoff Insall, Tony Smith, Ian Hughes and Murray Stewart 80 points

Men first place: Stuart Ridley, Lewis Ridley, Roger Smith and Paul Callaghan 84 points


I would like to take this opportunity to thank all the members and visitors who attended my Captain's Day, making it a most successful and enjoyable day.
Congratulations to all the winners for playing a most demanding course and coming out on top.
A big thank you to Lisa and her staff for all the hard work they put into the day, especially the Great Auction, that raised over two hundred pounds for the Captains Charity.
A thank you to the members who donated another two hundred pounds for the Greens Staff, I'm sure it will be much appreciated by them.

Once again many thanks to all.


John Machin
Club Captain.
Men's Golf Club Bowl - Bogey Competition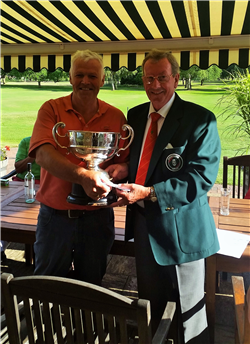 With fine but rather windy conditions the men's section played for the prestigious Golf Club Bowl on Saturday. With the course again in fine fetal with good run on the fairways and the greens good if a little slower than in recent weeks only 5 players came in with scores.

Nick Webb took the trophy with an excellent 3 score off his handicap of 11. It was nice to see Andrew Dauncey in the prizes returning a 2 score playing off 19 for 2nd place , with Geoff Wellens taking time out from shopkeeper duties to take 3rd place again with 2 playing off 18.The 2 other players to come in with positive scores were Phil Wheeler and Phil Batchelor.
Men's Club Championship
Hot Favourite Oliver Farrell not surprisingly regained the mens club championship at a warm and breezy craycombe links course on Saturday 4th July 2015.
With the course again presented to a high standard with the greens running fast and true with good run on the fairways despite overnight rain.
The competition as usual was played over 2 rounds with prizes for both best gross and net scores the latter for the Frank Swann Trophy with no player being able to take more than 1 prize.
Oliver took the championship with a combined score of 142 which included an eagle on the par 4 7th narrowly missing a hole in 1 with his ball lipping the hole.Runner up was Barry Saggers witha score of 163.
The Frank Swann Trophy was won by Steve Protherough with an impressive net score of 141 off his 5 handicap edging Paul Sharp into 2nd place by 1shot.
At the presentation club captain thanked everyone who took part and for staying behind for the prize giving.

Result.
1st Oliver Farrell 142
2nd Barry Saggers 163
3rd Steve Wood 166
4th Paul Callaghan 166

Frank Swann Trophy
1st Steve Protherough(5) 141
2nd Paul Sharp(11)142
3rdRussell Leeming(12)143
4th Lewis Ridley (13) 144.