Men's Winter League 2019-20
Winter League Finals Day
Sunday 15th March saw the final of the Evesham Golf Club Winter League programme. The competition started back in October and involved some 24 pairings split over four divisions with the top two pairings from each division qualifying for the knockout stages and the bottom pairing for the wooden spoon play-off. The qualifiers for the dreaded wooden spoon final were the father and son team of Derek and John Stanley against Ashley Curnock and Dave Morris. The Stanley's took the all-important win thus relegating last year's winners of the Winter League Ash and Dave to this year's last place and proving what a strange game golf can be.

The qualifiers for the final were Darren Nightingale and Stu Ridley who took the win from a lone Jeremy Saunders as his partner Andy Jones was unfortunately having to self-isolate. It was a tremendous effort by Jeremy to take the match all the way to the 16th against one of the most consistent pairings in the club, but many congratulations must go to Darren and Stu on a fine campaign.

Both finals were run alongside a competition of the day which ensured a good turnout for the various presentations afterwards. The Betterball Stableford format was won by Chris Jewkes and his partner Grantham Speake with 44 points on countback on the back 6 from Mike Abraham and John Richards. The Winter League is a long-standing tradition at Evesham Golf Club and despite some very trying conditions on occasions when the half time stop for breakfast is most welcome, it's a well-supported and friendly format which all competitors enjoy.
Winter League 2019-20 Champions
Ridley & Nightingale Successful!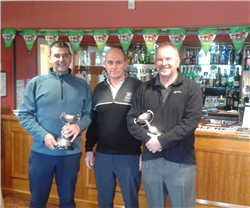 Winter League 2019-20 Wooden Spooners
Curnock & Morris take the prize no one wants!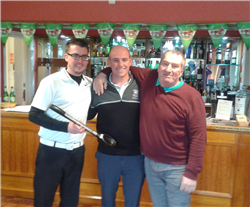 Winter League Knock out results
Wooden Spoon knock out results